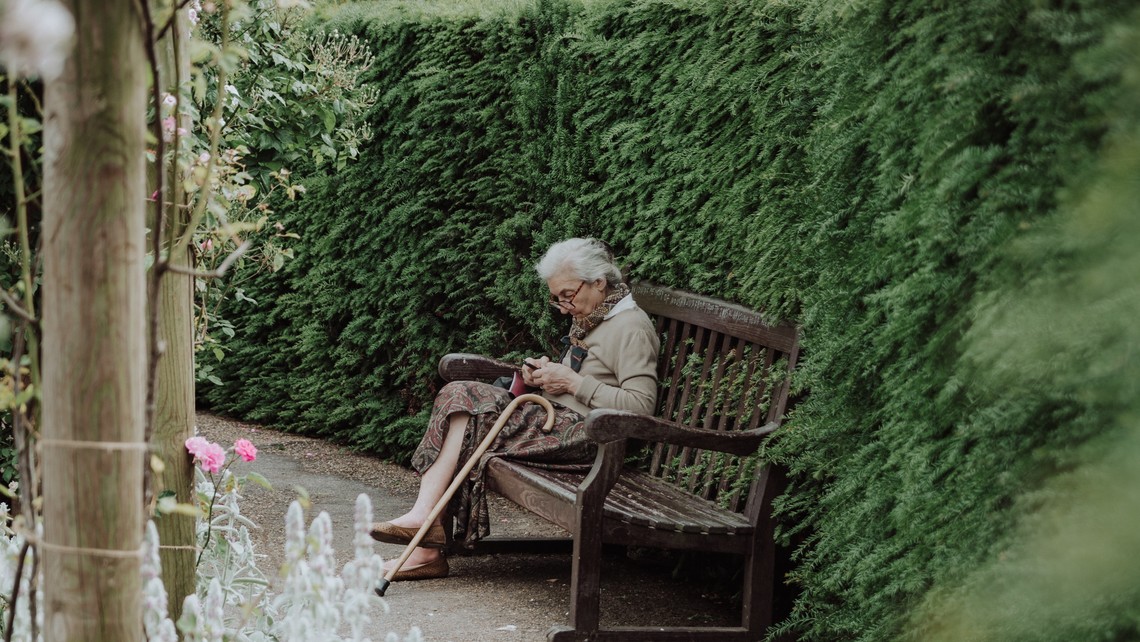 Dementia is an umbrella term for impaired thinking ability, particularly that which is necessary to make decisions and to recall or remember things. You have probably heard of Alzheimer's disease, which is the most common type of dementia. It currently affects 40 million people worldwide, but by the year 2050, it will affect 150 million people.
For the most part, Alzheimer's is not a genetic disease. Everyone is at risk. And while scientists are conducting research, lack of awareness (and lack of funding) are slowing down progress; Alzheimer's patients are often unable to speak up for themselves, and their families and caregivers are usually too tired to go out and advocate for change.
If you anticipate living to the age of 85 (or older), then your chances of developing Alzheimer's will be almost one in two, according to Alzheimer's research scientist Samuel Cohen of the University of Cambridge.
Worldwide Alzheimer's care costs $200 billion every year. One in every five Medicare dollars is spent on the disease. Cohen asserts that Alzheimer's is "one of the biggest medical and social challenges of our generation." He passionately argues that the lack of funding and research for finding a cure is the result of a dire misunderstanding: few people realize that Alzheimer's is indeed a disease, and therefore a cure can be found.
We at Prairie Naturopathic Doctors absolutely agree—and we hope to inspire our own patients to develop personal habits that work toward the ultimate goal of disease prevention and lifelong brain health.  
While normal aging might come with some memory hiccups, like the occasional misplacement of objects, forgetting of names, or temporarily searching for appropriate words—dementia is not a part of normal aging. Many people will go through their entire adulthood without developing any form of dementia.
Approximately one-third of dementia cases may be preventable. Roughly 35% of all dementia cases are attributable to nine specific risk factors—all of which have the potential to be modified. This is great news!
Many of these factors occur at specific stages of life, but a few, like smoking and hypertension, are quite likely to make a difference at all stages of life.
The nine known modifiable risk factors are:
Early Life – Poor Early Education (Education to a maximum age of 15)
Mid-Life – Hypertension, Obesity, Hearing Loss
Later Life – Depression, Diabetes, Physical Inactivity, Smoking, Low Social Contact
Other factors that may contribute to dementia include: heavy metal accumulation of aluminum, mercury, and lead, chemical accumulation of glyphosate, vitamin B12 deficiency and insufficient sleep.  Further research is likely to find other chemicals increasing risk.
Naturopathic doctors are experts at helping patients to slow down, and even prevent cognitive decline. We address lifestyle choices and health conditions that have shown to contribute to the onset of dementia, such as:
Exercise – We will work with you to design a physical activity regime that fits your lifestyle.
Sleep – Since prescription medication for insomnia can actually increase the risk of cognitive decline, we will use natural remedies like blue-light reduction and hydrotherapy, as well as herbs and supplements, to assist in development of healthier sleep patterns.
Diet – Herbal supplements to reduce inflammation, coupled with your optimal nutrition plan, ensure maximum dietary support for brain health and minimize environmental toxin exposure.
Stress – Meditation, prayer, massage therapy, and pilates are just a few ways to reduce stress and boost quality of life in our patients.
Cut Back on Meds - Improving overall health will reduce the need for prescription medications that increase risk for dementia (medication changes should be done with your doctor and not on your own).
Promoting Social Interaction – We encourage patients to join in-person interest groups, attend gatherings, and form or maintain friendships. We firmly believe in treating the whole person, and this includes assistance with finding social opportunities.
Addressing Hearing Loss – There is a higher risk for hearing loss in patients with diabetes, heart disease, and in those who smoke; lifestyle change for these patients is highly recommended. Actively wearing hearing aids will encourage social interaction and allow for patients to listen to music, both of which are preventative measures for cognitive decline.
If you are interested in preserving your cognitive ability through a healthy lifestyle, please book an appointment with one of our naturopathic doctors. Together, we will design a plan with which you're comfortable, and that includes exercise, nutrition, and positive social contact.
If you suspect that a friend or loved one is showing early signs of dementia, we urge you to contact one of our healthcare providers. We firmly believe that dementia, like any disease, can be prevented and treated—with the proper care.
References 
The Lancet Commission: One Third of Dementia May Be Preventable (prnewswire.com)
Samuel Cohen: Alzheimer's is not normal aging — and we can cure it | TED Talk
How Do Naturopathic Doctors Treat Cognitive Decline | (naturemed.org)
Association of Age-Related Hearing Loss With Cognitive Function, Cognitive Impairment, and Dementia: A Systematic Review and Meta-analysis - PubMed (nih.gov)